Aug 16, 2019 - MB Potato Report #12 - Disease & Insect
Dr. Vikram Bisht
Potato & Horticultural Crops, Manitoba Agriculture
In the website www.mbpotatoes.ca checkout "10-day weather forecast" for temperatures and rainfall - Click on Maps – Weather – then double-click the site you are interested in, and you get the Temperature and rainfall historical data & graphs.
"SPRAYcast" is also available on this website, to help with spray timing with respect to wind speed and direction.
Rainfall in the week (Tue, Aug 6 to Monday, Aug 12) was very extensive in distribution, but the total precipitation in some areas is still much lower than normal; though above normal in a few central potato growing areas (Table 1). Rains from Aug 13 to 15 will be included in next week's numbers.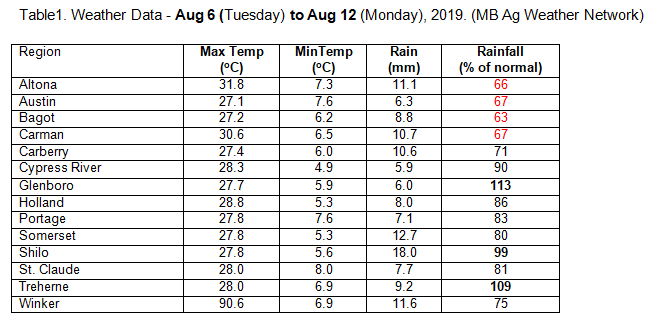 The P-Day values are nearing 600, indicating that conditions for rapid tuber bulking are continuing in the crops.
The week has been warm and with well distributed rainfall. Based on cumulative DSVs for the week, (up to Aug 15) – the western and central potato growing areas have medium to high risk (Fig 1). The 10-day forecast suggests some precipitation in the coming weekend and next week. It is important to continue to protect new growth against potential late blight risk; protectant fungicides would still be good. Late blight has not been reported from MB, ND or MN. New incidences of US#23 have been reported from Wisconsin.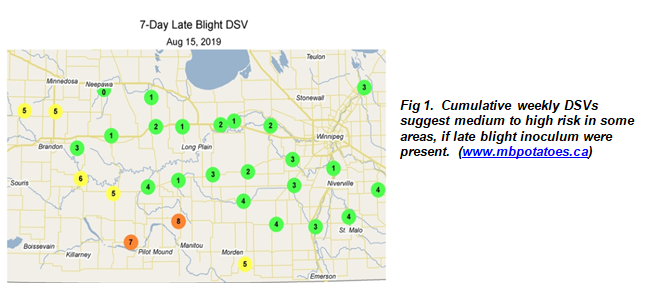 As the vine length increases the crop tends to settle down during the remainder of the growing season and creates a microclimate of high humidity-wetness – this along with recent showers leads to an increased incidence of Botrytis mold on stems and leaves (Fig 2a & b). Blackleg infected plants continue to show up in quite a few fields (Fig 3). ECB injury can lead to increased BL incidence. Early blight incidence is generally low.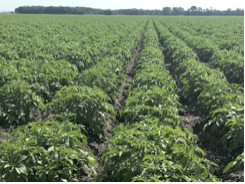 European Corn Borer (ECB) adults in traps have dropped dramatically; so data not presented. Trace amount of branch wilting and stem borer injury can be seen in some fields. The current incidence status does not warrant insecticide spray for the ECB control.

Aphid monitoring in seed fields shows that the aphid numbers have again increased still higher compared to last week's count. No Green Peach Aphid has been trapped. Potato Aphids continue to be trapped; and these PAs are effective vectors of PVY viruses, even though they are not as effective as the Green Peach aphids. Western area traps – suction trap or pan trap unavailable. In some pan traps, irrigation water flooded the pans and the aphids were lost due to overflow.
Petroleum oil and insecticide application should be considered as the nearby crops (wheat, canola) are being harvested or drying; aphids from those crops may be looking for another new green crop.
Below are the details from the traps for the 7th week's sampling: