Jun 17, 2021 - MB Potato Report #6
Dr. Vikram Bisht
Potato & Horticultural Crops, Manitoba Agriculture
The week of June 8-15 showed moderate temperatures around the province, ranging mid-20s to mid-teens.
By mid-June, the accumulated heat units, GDD, are 95-105% of normal in potato growing areas of MB. https://www.gov.mb.ca/agriculture/weather/pubs/percent-normal-gdd.pdf
There is a forecast for temperatures to be in mid-20s, with chances of rain in the weekend. Manitoba - Weather Conditions and Forecast by Locations - Environment Canada .
There appears to be sufficient moisture in top 30 cm, within 40-90% of saturation levels, as expressed in % of soil saturation for the soil type of the region (Fig 2). https://www.gov.mb.ca/agriculture/weather/pubs/soil-moisture-30cm.pdf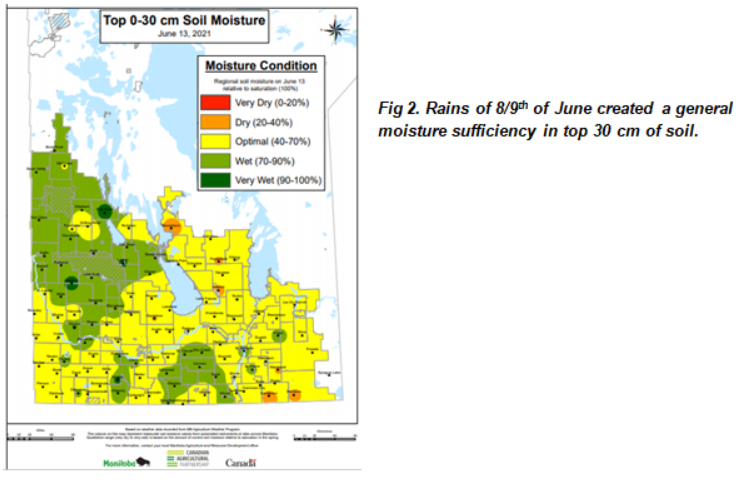 There have been limited and scattered rains in the week, June 9 - 15 (Table 1). Most potato production areas show 60 to over 150% of the normal precipitation for the period. Rains overnight on June 8 and afternoon of 9th have been very timely for the dry top soils. A local rain gauge recorded 80mm rain in Carman, while the Ag-Met station recorded 76mm.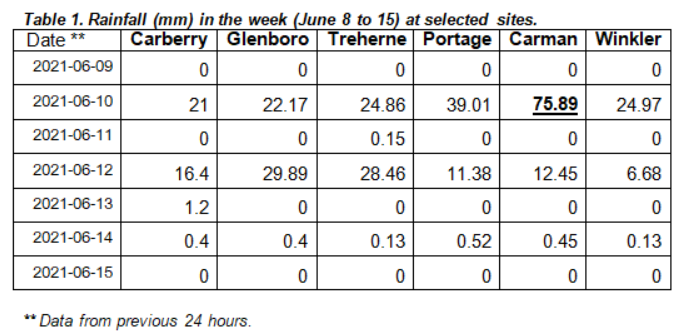 The accumulated rainfall (May 1 to Jun 13) now appears to be near normal or just above (60 – 160%) in potato growing areas (Fig 3).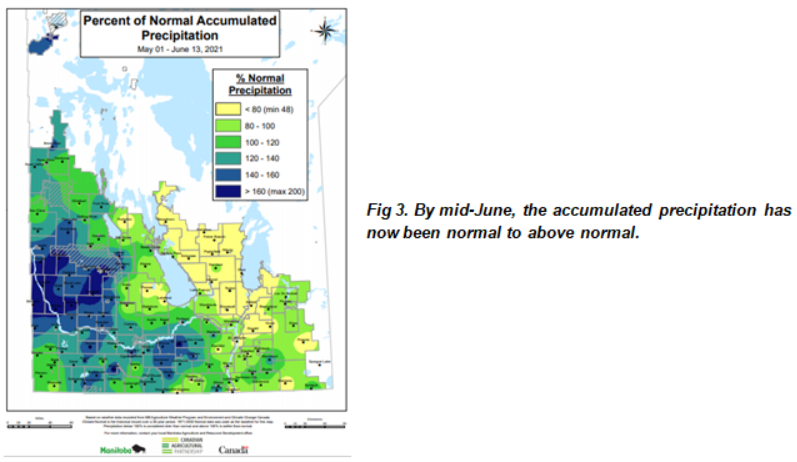 https://www.gov.mb.ca/agriculture/weather/pubs/percent-normal-precipitation.pdf
Some early planted fields have 12-18" plants, with 25-50% ground cover. With rains in the week, the crops look good. June 4 can be considered as date of 50% emergence for start of P-Days calculations.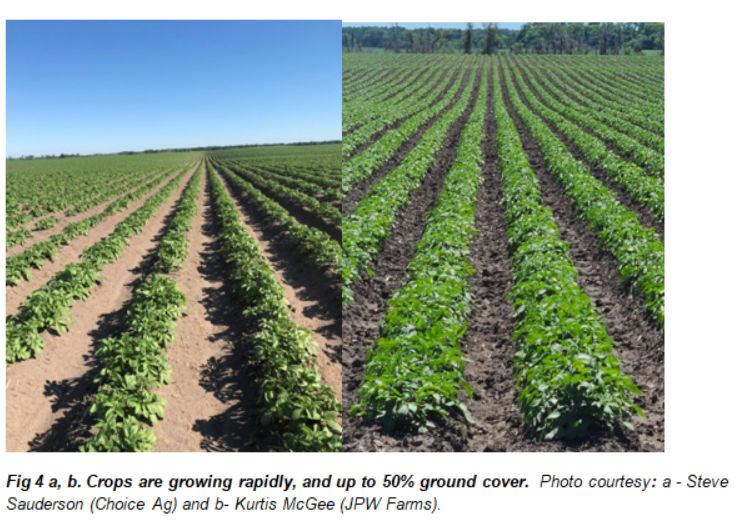 There were some more reports of slow emergence, which could be due various factors as seed-carry over of herbicide injury to mother plants (Fig 5), herbicide soil-residue (Fig 6), tuber rotting due to blackleg and heat (Fig 9).
The affected seed pieces have extensive sprouting and appear to be consistent with glyphosate-injury-like symptoms. Random distribution of affected plants in the field, suggests mother plant exposure to herbicide drift in the previous year. A few more field cases have been reported. Sometimes the symptoms are modified multi-sprouts with swellings, which could be variety specific (Fig 5).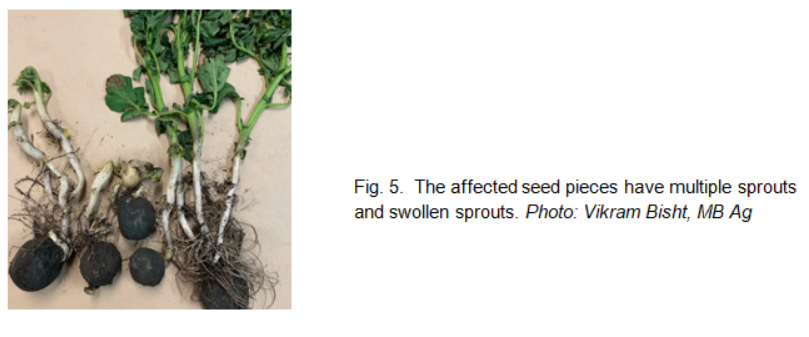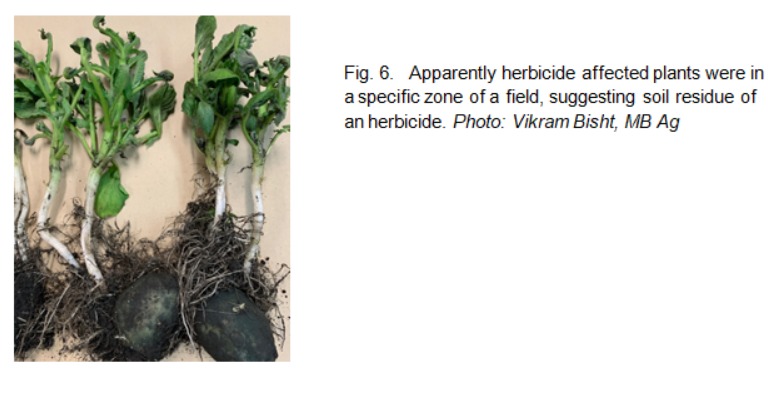 Rhizoctonia infection on young sprouts is also showing up (Fig 7)
In a field, there were significant stand difference within the same field, with the same variety and planted on the same day (Fig 8). The major difference was sharp-knife cut seed pieces which were well suberized vs fresh-cut (not sharp knife); both were seed treated. This indicates that seed suberization is a good practice for a good stand in adverse conditions; while use of dull seed cutting knives may create stand issues, especially when fresh-cut and planted.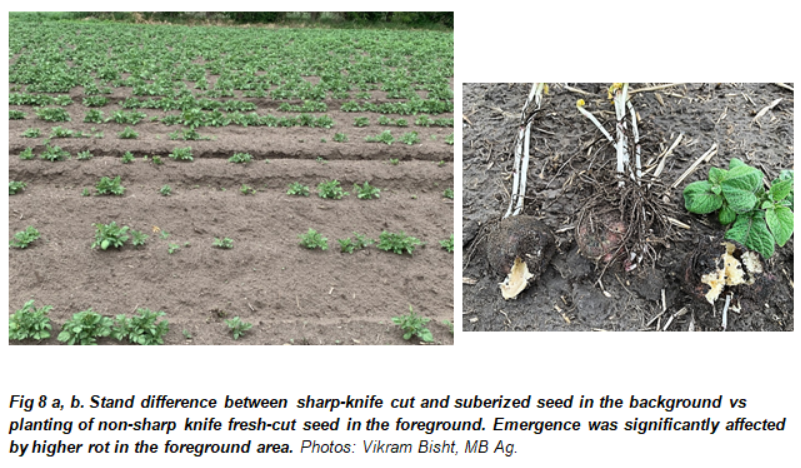 For help in late blight disease forecasting, passive Sporonado spore traps, have been placed at 14 locations across Manitoba. Weekly monitoring will be done for the spores.
Colorado Potato Beetle activity is being noticed in some fields. Soon, there will be time to scout for eggs and young larvae for CPB management.
The SPRAYcast app SPRAYcast® (mbpotatoes.ca) is be a helpful tool to decide time to spray, based on wind speed and direction, and prevent spray drift issues. It is also important for potato field neighbours to understand the implication of drift injury.
All information and other reports will be available at http://www.mbpotatoes.ca/index.cfm