Jun 13, 2019 - MB Potato Disease REPORT #3
In spite of many warm days in the previous week, the night of June 12 night (and a few nights earlier) had very low temperatures in most of Manitoba (Fig 1); though potato crop did not show any injury, some crops like asparagus and strawberry had minor frost injury. Accumulated heat units has continued to improve, but still below normal (Fig 2).
| | |
| --- | --- |
| | Fig 1. The Frost report for June 12. In most of the potato growing areas in Manitoba the low temperatures had dipped to 2 to 4 C. |
Between June 4 and 10, there was scattered rainfall from 5-6mm to 27.5mm in potato growing areas of Manitoba (Table 1). The accumulated rainfall is still below normal in all potato growing areas by June 9 (Fig 3).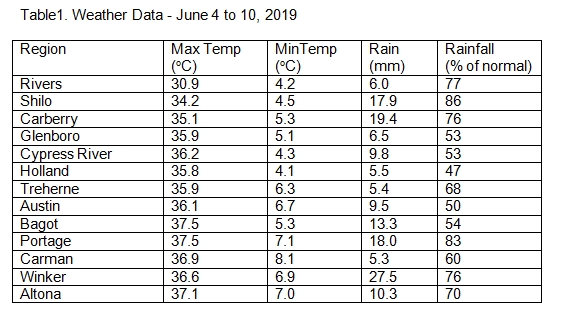 The plant stand in many fields looks very good. Plants ranging from just ground crack to >6" in some fields. Early planted Rangers have started showing early tuber initials, the hooking, even at 4" plant heights (Fig 4). In some fields the stand is a bit patchy, with non-rot related slower emerging sprouts (Fig 5). The cause is being investigated.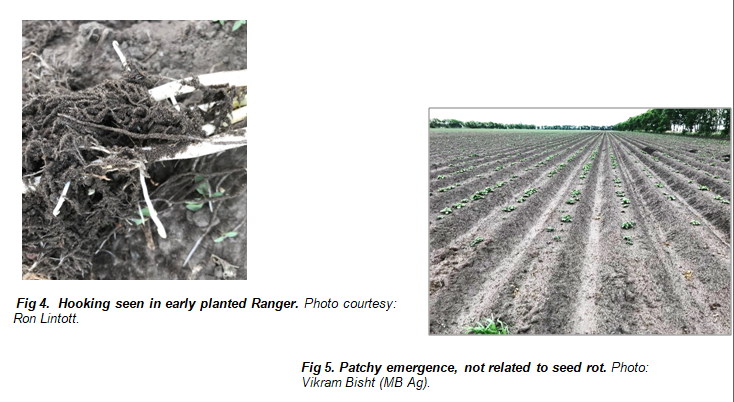 The first CPB adult has been reported in central Manitoba (Fig 6), the warm temperatures in the previous week must have encouraged the insect activity. It will be time to scout for CPB egg masses and larvae on the foliage.