Sep 21, 2020 - MB Potato Report #18
Dr. Vikram Bisht
Potato & Horticultural Crops, Manitoba Agriculture
By Sept 13, the accumulated "potato heat units" (P-Days) were generally still above 100% normal; and mostly around 780 to 800+ units (tuber maturation stage) across Manitoba (Table1). https://www.gov.mb.ca/agriculture/weather/pubs/percent-normal-p-day.pdf and http://mbpotatoes.ca/pday.cfm# .
The week's temperature highs were lower than last week's upper 20s OC, but overnight lows were cooler, with frost in many areas, especially the west and south Manitoba. Tuber bulking and maturation is going on strong. Frost on Sep 17 and 18th is not part of this report.
The week had very low precipitation, ranging from almost none (0.2 mm) to 3.4 mm for the week, (Fig 1 and Table 1).
http://www.gov.mb.ca/agriculture/weather/pubs/percent-normal-precipitation.pdf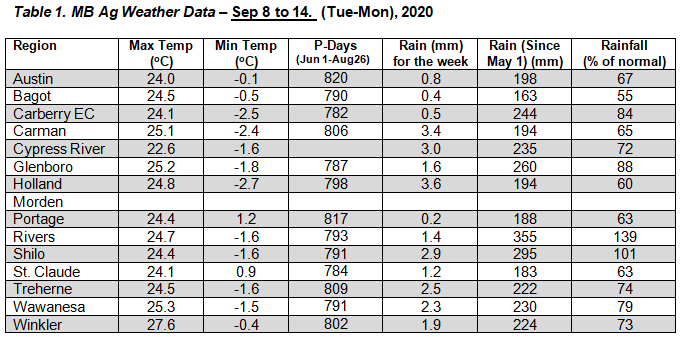 Late blight Forecasting - Manitoba:
DSVs: Currently, the cumulative Late Blight Disease Risk Values (DSVs) for 7-Day cumulative DSVs (Sep 13 – 20), suggest that the late blight risk was very low in all of Manitoba.
Weekly Cumulative Late blight DSVs were zero for all of Manitoba. http://mbpotatoes.ca/dsv.cfm?map=total
No late blight was reported from Manitoba or the nearby regions.
Other Diseases:
As the crop is nearing maturity, in many fields "Early dying complex" Verticillium wilt is showing up. A survey of a few fields, suggests that the early dying due to Verticillium is less extensive than last year. Black dot disease also appears to have been managed better than 2019.
Harvesting:
Soil conditions are good for harvest; though it has been warm for a couple of days.
Harvesting is in full swing and at different stages – from 100% finished to about 30%. The harvested tuber temperatures are 52 to 62 OF (11 – 17 OC).
Yield estimates appear lower than last year's.