May 11, 2021 - MB Potato Disease REPORT #1
Dr. Vikram Bisht
Potato & Horticultural Crops, Manitoba Agriculture
Welcome to Manitoba Potato Disease Reports for 2021 season!
I wish our potato growers and industry colleagues a very good 2021 potato season.
This is the first report for the 2021 potato season. Regular weekly reports will be provided, including late blight risk forecasting, updates on other disease and insect pests on potatoes, and control recommendations. All information will be available at http://www.mbpotatoes.ca/index.cfm
In 2021, a warm March led many to believe that it will be an early start to potato planting; but a cold snap and snowfall caused delays. One of the first planting started around April 23 (also Apr23 in 2020; 2019 started April 18; and 2018 around the 1st week in May). The planting was in full swing by Monday, Apr 25 and by May 9 many farms have finished or nearly finished planting. A rough estimate of >75% acres planted; planting ranges from 25 to 100% in various farms.
During the planting period, late April to mid-May, the soils were warmer than in 2020, but much drier. Soil moisture is ranging from 13-25 % of moisture by volume – irrigation or rain will be important for establishing newly emerged plants. Moisture at 20 cm depth is ranging from 15-30% by volume (Fig 1, a, b, c). % Moisture by volume is not the same as % available moisture, due to varying soil characteristics.



The soil temperatures were warmer in the early part of April, but became cold by 14th of April. At the time of planting, the soil temperatures at 5 cm (2") depth in early planted fields (starting April 23) were as low as 4.5 to 7oC (41 - 45oF) (Fig 2a). In 2020, however, the soil temperatures had stayed cold till around April 23 (Fig 2b) leading to slow emergence and may have played a role in blackleg incidences in some fields.
Fig 2 a, b. Soil temperatures at 5 cm depth in spring 2020 and 2021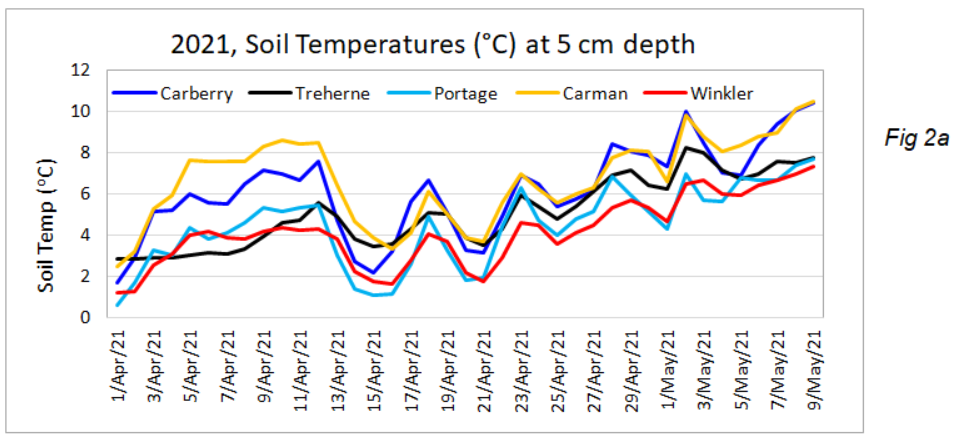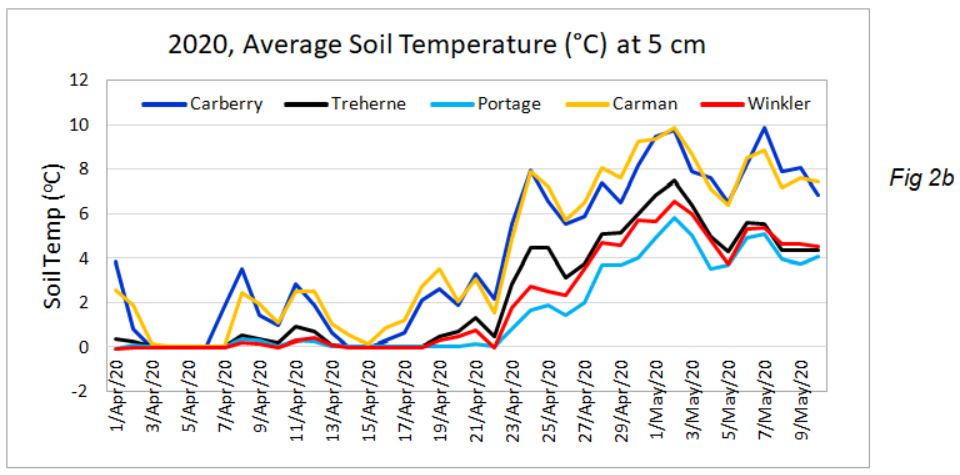 At 20 cm depth, the soils were slightly warmer than in 2020 (Fig 3a & b). The warmer soils at 5 and 20 cm may lead to quicker emergence and growth than in 2020, providing there is sufficient moisture.
Fig 3 a,b. Soil temperatures at 20 cm depth in spring 2020 and 2021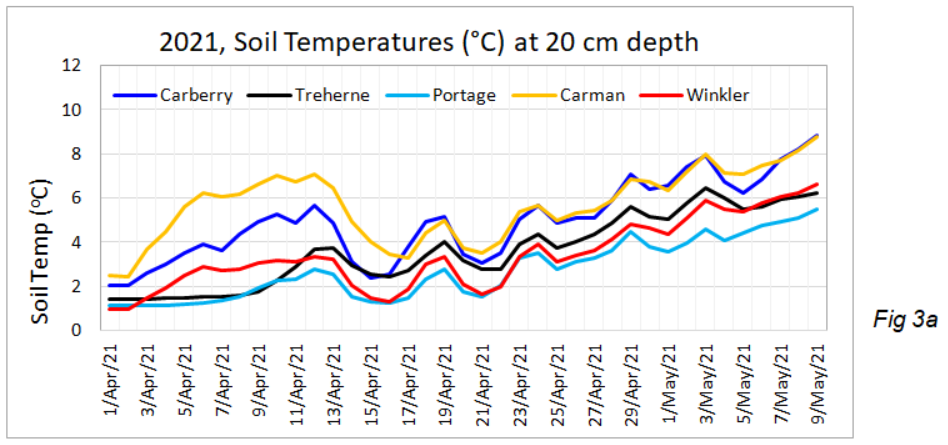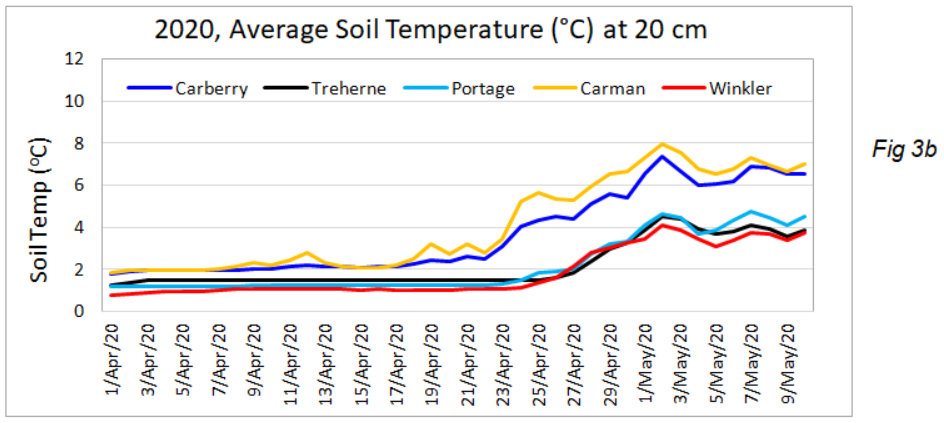 Scattered rains on May 2 were light, 3-10 mm. Precipitation has been significantly below normal so far, from Nov 2020 to May (Fig 4). Most potato production areas show <30 to 40% of the normal precipitation. Spring 2021 was drier than 2020, which in turn was drier than 2019.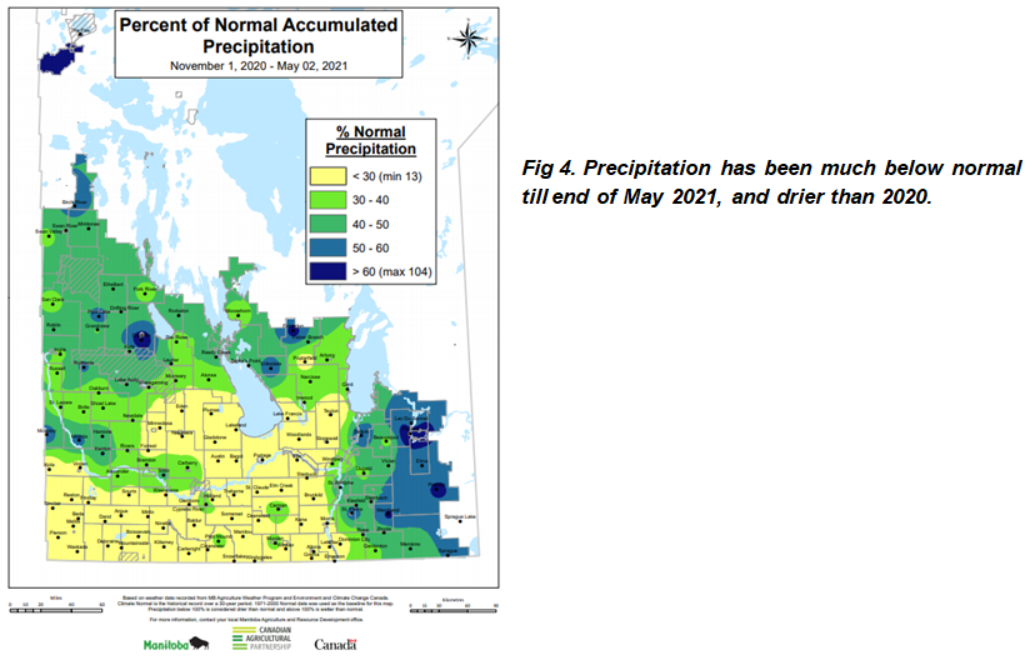 http://www.gov.mb.ca/agriculture/weather/pubs/percent-normal-precipitation.pdf
Now that most acres have been planted, it is important to dispose of the culls in a safe manner. Cull piles can be significant sources of inoculum for many diseases including late blight and soft rot bacteria. It is important to dispose away the cull piles before plants starts emerging in those piles.
This report is often compiled using information from potato growers and agronomists. Please contribute if you have some information or photos to share.