Jul 17, 2018 - Insect Pest Report #4(July 10 – 16)
By Dr. Vikram Bisht, Plant Pathologist, Potato & Horticultural Crops, Manitoba Agriculture
The aphid numbers continue to be very low in the aphid traps (suction trap,as well as the two pan traps) placed in the crop. These numbers are significantly lower than same time last year. There were no Green Peach (GPA) or Potato Aphid identified in these samples.
Below are the results from suction in seed fields for the 5th week of sampling.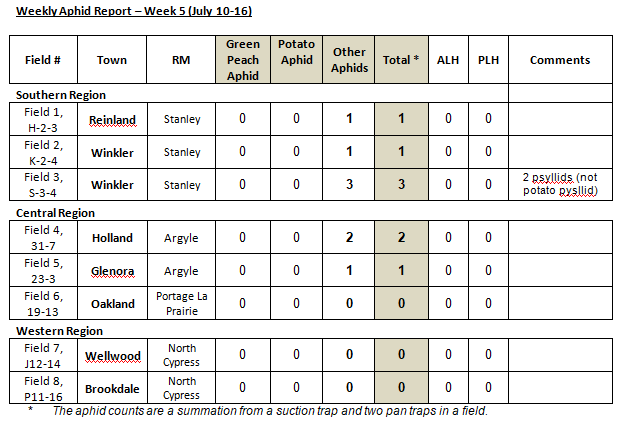 No Aster leafhoppers (Aster LH) trapped or Potato LHs were trapped. Varying levels of thrips, but fewer than last week.
Bertha armyworm has been reported in a few fields, though at very low incidence.

A few adult European Corn Borers were trapped in the Delta traps. Numbers appear to be low. Stem borer injury is being observed, but the incidence may be too minor to warrant an insecticide application.