Sep 17, 2021 - MB Potato Report #19
Dr. Vikram Bisht
Potato & Horticultural Crops, Manitoba Agriculture
The week was generally cool, but for warmer Sep 12. Temperatures hovered around mid-20s for the week. (Fig1, Table 1). Overnight cooler temperatures have started going under 7 oC.
The temperatures are forecast to continue in the high-20s C on Sep 18 & 19, but cool down to around 20s later for a few days. (Manitoba - Weather Conditions and Forecast by Locations - Environment Canada, www.mbpotatoes.ca/weather.cfm). There were some scatters rains on Sep 15.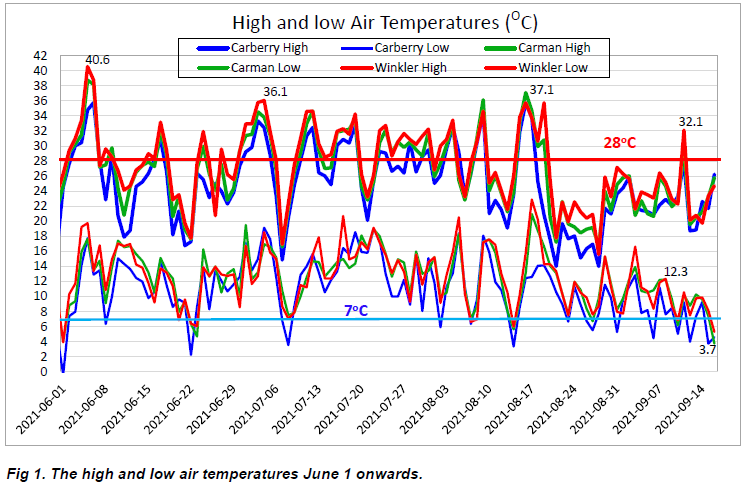 There was practically no rainfall in week Sep 6-12, since Sep 02. The soil moisture (relative to field capacity for the soil profile) in top 30 cm zone has gone from "dry" to generally "optimal" in most potato producing areas (Fig 2). https://www.gov.mb.ca/agriculture/weather/pubs/field-capacity-based-top-30-sm.pdf.
There were scattered showers across Manitoba potato producing areas; though light, the rainfall did not much delay harvesting. Cumulative rainfall, as % of normal, is still quite below (62 to 71%) in the Portage, Morden/Miami and Winker potato growing areas. Shilo and Rivers were around 100% of normal.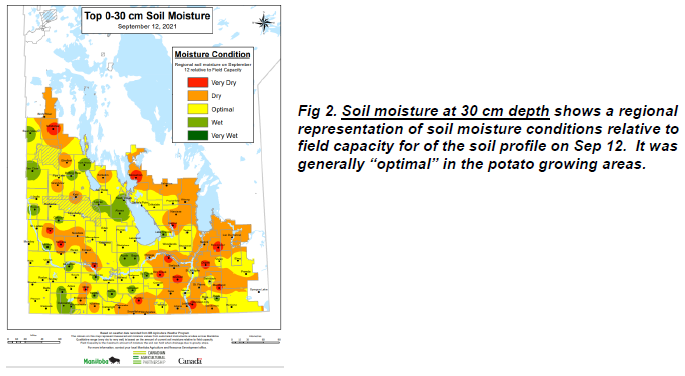 Crop water demand was higher than last week, and ranged from 24 to 31 mm (generally around 1 inch) (Table 1).
Water deficit (crop water demand not met by rainfall, CWD – rainfall) – there were practically no rains, thus the water deficit equalled the the crop water demand in most places.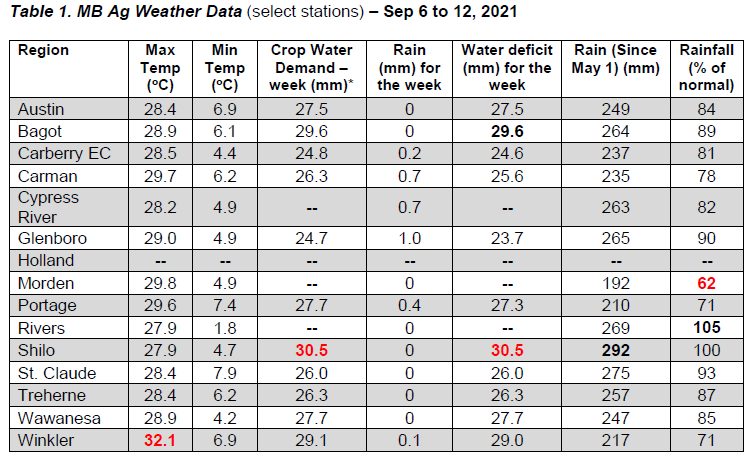 '* Crop Water Demand: cwd (mbpotatoes.ca). Water deficit = (CWD – Rainfall)
https://www.gov.mb.ca/agriculture/weather/pubs/crop-weather-report-2021-08-09.pdf
Late Blight:
The 7-day cumulative DSVs up to Sep 15 were zero in potato growing areas, suggesting low risk for late blight if inoculum is present. Late Blight (mbpotatoes.ca)
Late Blight Spore trapping ended at the end of August.
Phytophthora spores were not detected in the spore traps (Aug 23 -30) at any site.
Early Dying
Many fields had started showing early dying symptoms 3-4 weeks ago, and are peaking now. During survey, internal browning of stems by Verticillium, blackdot infrection were main causes of early dying. However, in some spots (often sandy ridges) in some fields, the diseases were not the cause but could be nutrient or heat/water related.
Potato Harvest:
Harvest conditions are good, due to rains on Aug 27 and Sep 02 and on the 16th. The rains yesterday were in the range of 0.8 to 7.0 mm across the potato growing areas of the province.
About 30-40% of the crop has been harvested in the western MB farms, while it may be around 15% in the other areas.
Though some growers are reporting better yields than last year, generally there are reports of average to lower yields. Hot days during the season have impacted the tubers shape and size uniformity in some fields. It is too early to tell the overall impact of the hot and dry conditions on the potato yields and quality.
There are warm days forecast for the weekend, when harvesting warm tubers brings in additional risk to the storability of the potatoes.
To see the full report with tables and figures, please click on the link:
http://www.mbpotatoes.ca/index.cfm. All previous 2021 reports will also be available at this site.