Oct 18, 2019 - MB Potato REPORT #21
Dr. Vikram Bisht
Potato & Horticultural Crops, Manitoba Agriculture
Again, the precipitation (rains & snow mix) in the week (Monday, Oct 7 to Monday, Oct 14) was extensive in distribution in the province, and similar to last week. The weather station sites recorded 1/2" to >1" precipitation (liquid equivalent). The overnight mild freezing air temperatures were recorded in all the potato area weather stations.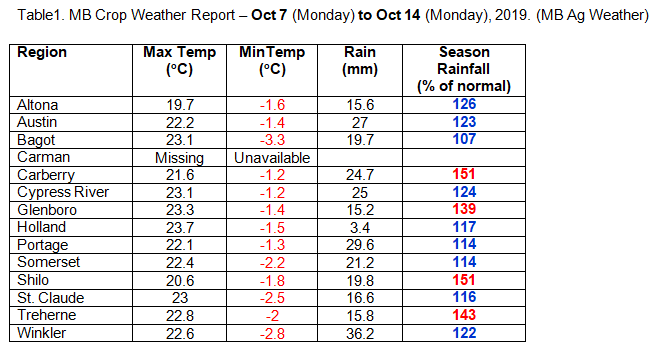 Potato harvesting has stalled due to continued rains and now snow. An estimate of about 70% of the potato crop had been harvested in the province by Oct 11. Not much has been accomplished since, due to rain and heavy snowfall – apparently a record precipitation for October. The soil moisture profiles to 30 and 120 cm indicate that more areas have become wetter, as compared to last week (Fig 1 a & b).
A report of 90 cm of total snowfall was reported at a CoCoRaHS site (Community Cooperative Rain, Hail and Snow Network) south of Morden near the North Dakota border. (Robs Blog)

Another CoCoRaHS site at Somerset reported a total of 87 mm of melted precipitation over the storm.
MB Ag has "snow-rain gauges" at most of its weather station sites – all snow collected in these gauges is converted to liquid and presented as liquid equivalent for the snow.
The 10-day forecast (http://www.mbpotatoes.ca/weather.cfm?stn=212#btm) indicates some overnight freezing (-3C) in some areas around 24th of Oct and even lower around the 28th. There is some precipitation forecast on Oct 20th and 21st.
Other provinces and states that produce potatoes are also having challenging harvest conditions. AB, NB and PEI have also not completely finished harvesting their potato crops as yet. In USA – Michigan (70% harvest by Oct 16), Wisconsin, Minnesota, North Dakota have unfinished potato harvest. Idaho had 15 to 20% crop yet to harvest as of October 9, 2019; and snow and freezing conditions are threatening the crop.
Fig 1. a & b. Soil Moisture conditions by 15th of Oct 2019, indicate wet to very wet soils to 30 cm depth, and it is wet even up to 120 cm depth. https://www.gov.mb.ca/agriculture/weather/pubs/soil-moisture-30cm.pdf https://www.gov.mb.ca/agriculture/weather/pubs/soil-moisture-120cm.pdf