Oct 25, 2019 - MB Potato Report #22
Dr. Vikram Bisht
Potato & Horticultural Crops, Manitoba Agriculture
There was almost no precipitation in the week (Oct 14 – 20). Overnight mild to severe freezing air temperatures were recorded in all the potato area weather stations.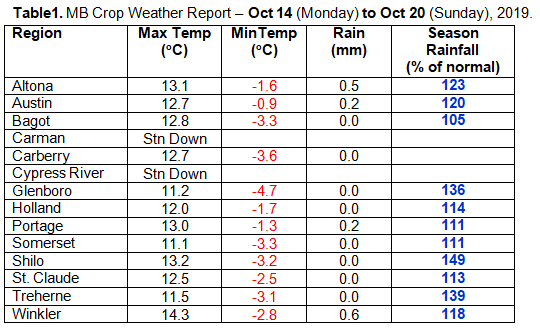 Current data observation indicate that there were long hours of overnight freezing air temperatures on Oct 22-23 and Oct 23-24.

Potato harvesting has stalled or become difficult due to wet ground from rains and snow. The freezing temperatures overnight on Oct 22, 23 and 24 have affected harvest progress. An estimate of about 75% of the potato crop had been harvested in the province.
Agronomists from different areas report tuber pulp temperature 28-32oF. In one-two cases frost was reported at 5" depth.
The 10-day forecast (http://www.mbpotatoes.ca/weather.cfm?stn=314#btm) indicates severe frost temperatures from Oct 24 onwards. The duration of frost is critical for the integrity of tubers and the depth to which tubers get affected.
This is the last report for the season.
I take this opportunity to thank industry agronomists: Scott Graham, Leon Jarvis Tavis Mangin & Landon Thomson (Simplot), Simranjit Singh (McCain Foods), Steve Saunderson (Choice Agri), Ron Lintott, Trevor Thornton (Crop Care), Doug Pryor & Darren White (Delta Ag), Dan Sawatzky (KPPA), Kurtis McGee (JP Wiebe Farms) and various farms for in-season updates on crop & pest information, disease samples and support for the aphid, ECB and potato psyllid monitoring programs.
Special thanks to my summer student, Corinne Girouard and other MB Agriculture staff - Tracey Cummer, Tom Gonsalves, Manika Pradhan; AAFC staff Curtis Cavers and Danny Bouchard.
Finally a big thanks to WIN (Weather Innovation Consulting LP) for maintaining the website www.mbpotatoes.ca and support for late blight forecasting.