Jul 19, 2019 - MB Potatoes Report #8 - Disease & Insect
Dr. Vikram Bisht
Potato & Horticultural Crops, Manitoba Agriculture
Rainfall in the week (Tue, July 9 to Monday, July 15) was widespread in the province, getting closer to normal or already above normal in a few potato growing areas (Table 1, Fig 1). There were rains on July 16th and the 17th also (to be included in data next week). The rain amounts were higher in the south-east and central potato areas of the province (Fig 1).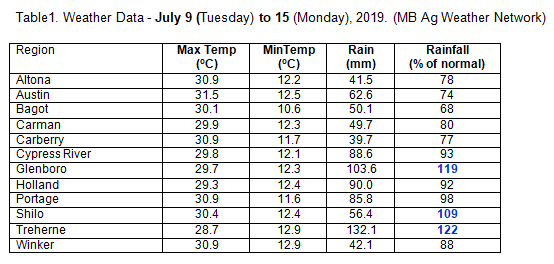 https://www.gov.mb.ca/agriculture/weather/pubs/seven-day-acc-precipitation.pdf
These recent rain days have increased the late blight risk values, DSVs (Fig 2). The cumulative DSVs have crossed 18, the threshold for high risk for late blight development if the inoculum is present in the areas. Under these conditions, it is important to keep the rapidly growing canopy protected against late blight with protectant fungicides.
With high moisture in the soils of potato crop, there could be risk of sclerotinia white mold stem infections when the plants lie flat on the ground and trap the moisture.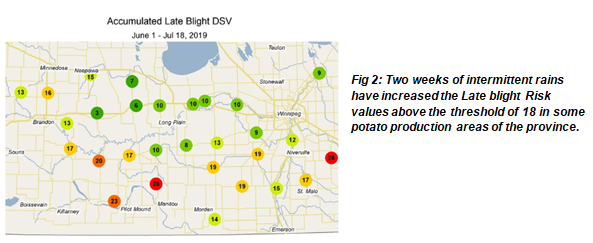 The P-Day values have crossed 300, a value beyond which the conditions occur for early blight incidence in the lower canopy of the crop. Scouting for the disease is important. Mancozeb and Chlorothalonil are effective when the early blight levels are low.
European Corn Borer (ECB) traps now are showing adults in traps (Table 2). The numbers are not an indication of potential ECB injury; they are an alert/indication that it is time to scout for eggs and larvae (Fig 3). Eggs are hatching and larvae have been reported boring into stems in western potato areas; incidence is low.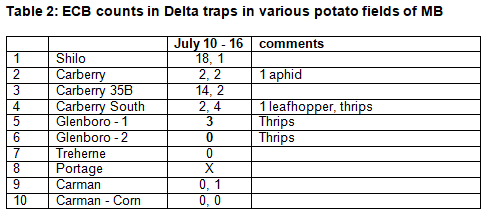 Scouting for early larval stages of Colorado Potato Beetle (CPB) will help timing the insecticide applications, if needed.
Aphid monitoring in seed fields was initiated 3 weeks ago. The aphid numbers are low; no Green Peach Aphid has been trapped. Potato Aphids were trapped in the Winkler fields.
Below are the details from the traps for the first two weeks of sampling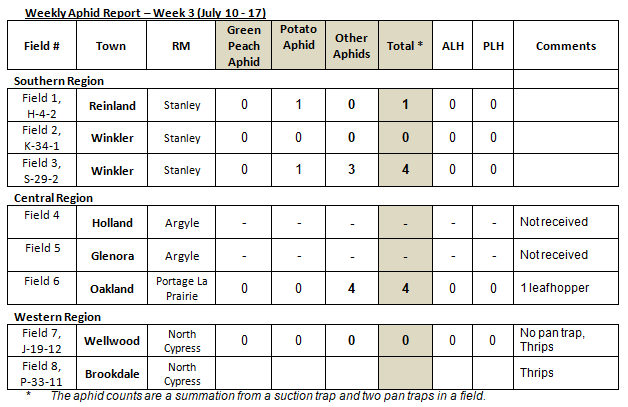 In the website www.mbpotatoes.ca checkout "10-day weather forecast" for temperatures and rainfall - Click on Maps – Weather – then double-click the site you are interested in, and you get the Temperature and rainfall historical data & graphs.
"SPRAYcast" is also available on this website, to help with spray timing with respect to wind speed and direction.