Jul 31, 2020 - MB Potato Disease Report #11
Dr. Vikram Bisht
Potato & Horticultural Crops, Manitoba Agriculture
By July 26, the accumulated "potato heat units" (P-Days) are mostly over 100% above the normal; and over 450 units across Manitoba (Fig 1). Compared to last week, the highs in the week were 2-3 oC higher, affecting most regions (Table 1). https://www.gov.mb.ca/agriculture/weather/pubs/percent-normal-p-day.pdf and http://mbpotatoes.ca/pday.cfm# .
There were scattered rains mostly on the western MB (Fig 1) in the week (July 21 to 27), with 1" in Shilo and 2" in Glenboro. More central potato growing areas got about ½", while Bagot, St. Claude, Carman, Morden Winkler got hardly any precipitation in the week. Treherne region had thunderstorms and lightening in the week. Lightening damaged plants showed typical pith desiccation, while the tubers got well toasted (Fig 2)! Rains were mostly on July 23-24, and hardly any since.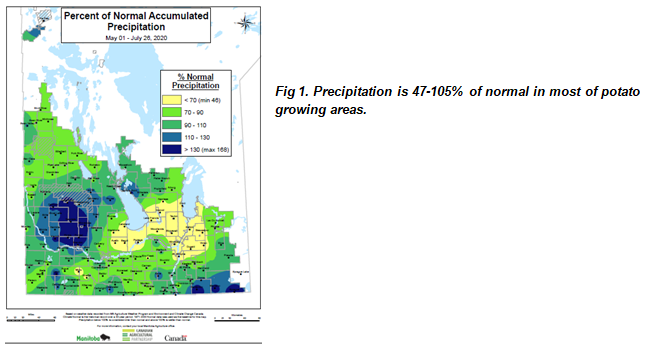 http://www.gov.mb.ca/agriculture/weather/pubs/percent-normal-precipitation.pdf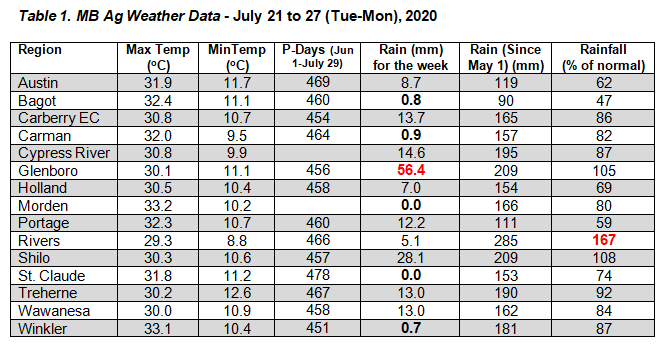 Heat related issues continue to be on-going problem. Sprouts from the heat-runners are now producing tubers initials in some fields – possibly leading to another flush of tubers. (Fig 3 a, b) and misshapen tuber (Fig 4). This may impact tuber set, uniformity of size profile and other quality traits.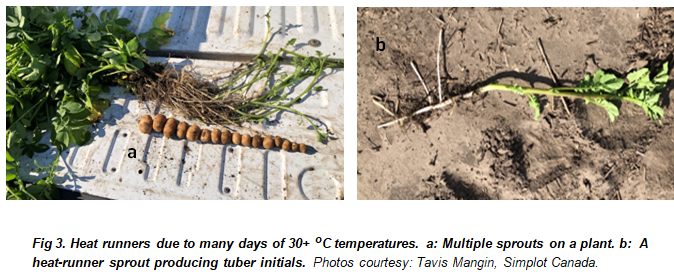 Late blight Forecasting - Manitoba:
DSVs: Currently, the cumulative Late Blight Disease Risk Values (DSVs) have crossed 18, a critical level for higher risk for late blight in some areas (Fig 5), and there was medium to high risk added in the last week at different sites. There is some precipitation forecast in the coming couple of days.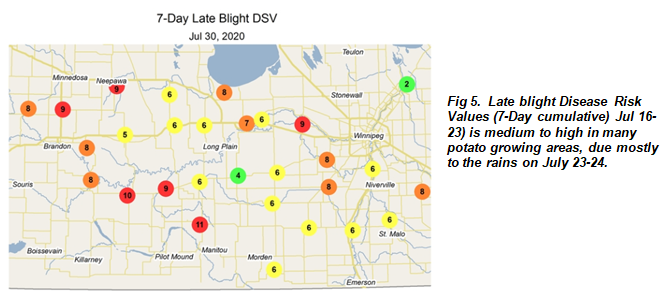 http://mbpotatoes.ca/dsv.cfm?map=total
Late Blight & Early blight Spore Trapping: Passive spore traps set up at 6 sites (Shilo, Carberry, Melbourne, Treherne, Carman, Winkler) across MB, and the spore trapping cassettes were sent for testing for Phytophthora infestans and Alternaria solani. Both, Phytophthora and Alternaria spores were NOT detected in the spore traps at any of the six sites (Table 2).

New incidence of early blight was observed in Bagot area on Ranger Russet. Alternaria (early blight) spores were not trapped from a Russet Burbank field, where the spore trap was placed; also no early blight leaf spots were observed in the field. (Fig 6 a, b).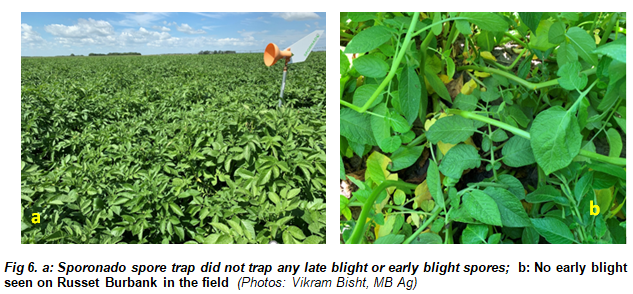 Early blight has been reported in Rangers, but hardly any in the Russet Burbank fields; still it is prudent to scout for the disease or consider fungicide(s) with activity against EB at low levels.
No new late blight incidence was reported the US or Canada in the last week.
Aphid monitoring:
Aphid suction traps and pan traps were set up in 8 seed potato fields. Aphids were trapped in all 6 sites' samples received. The aphid numbers are increasing in most sites. Potato aphids have been trapped in many sites; these are efficient vectors of Potato mosaic viruses. Green Peach Aphids were not trapped. Aster Leafhoppers and also Potato leafhoppers are being trapped in many seed sites, pan traps and also on yellow sticky cards.
Trapping of Potato aphids in many seed fields suggests that use of Mineral oil with insecticide will be a useful strategy at this time.
Below are the details from the traps for the 6th week's sampling: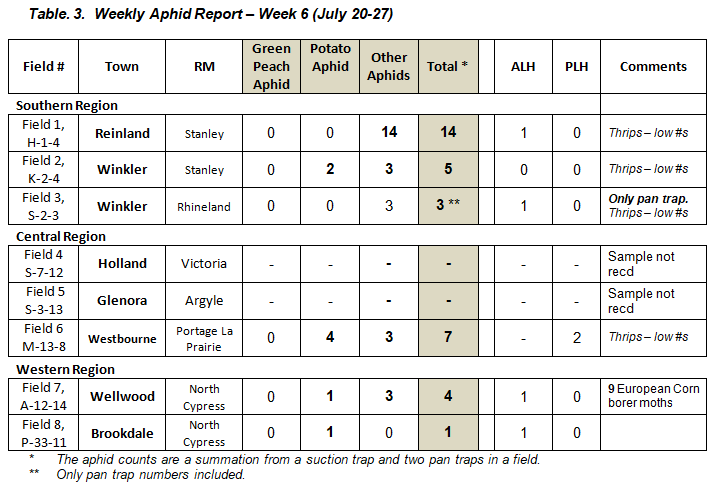 European Corn Borer monitoring:
ECB pheromore Delta-traps were set up in 12 fields across Manitoba. In this week (July 20 to 27) 11 of 12 sites had ECBs adults trapped (Table 4). The western side of the potato production area has been regularly trapping ECBs. It is time to scout for eggs or small ECB larvae. The early signs of ECB injury are wilting of top shoots due to larvae boring into soft branches. Stem borer injury from ECB larvae are now being reported from many fields; but at low incidences (Fig 7). Insecticide application is not being recommended for such a low incidences.
Grasshoppers are being reported in large numbers, but incidence is mostly in the outer few meters of the fields. With low foliar feeding incidences, insecticides are not being recommended; if at all – only the borders could be sprayed.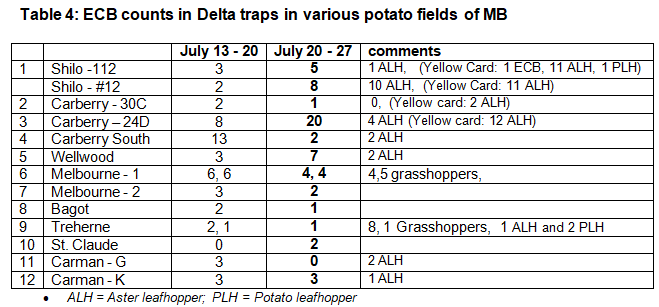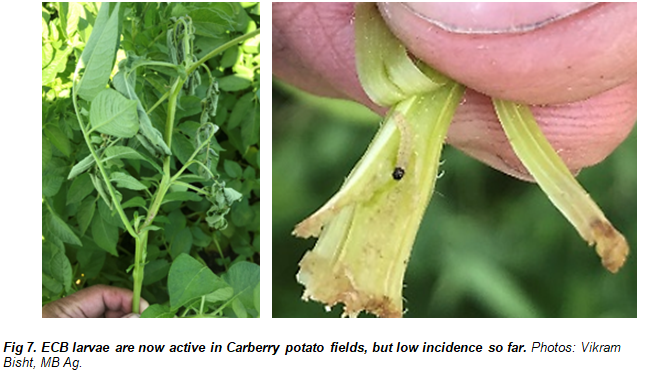 Colarodo Potato Beetles:
New flush of CPB egg masses and newly hatched larval stages are being reported in some areas (Fig 8 a, b). Scouting for population levels may help in deciding use of insecticides. It is important to use a different foliar insecticide for CPB control than used for seed treatment. Low populations reappearing in the western parts of MB, but central and southern production areas have larger populations and possibly group 4A insecticide resistant populations.