Jun 5, 2020 - MB Potato Disease Report #3
Dr. Vikram Bisht
Potato & Horticultural Crops, Manitoba Agriculture
Other than a few late plantings, most commercial potatoes are finished. Though slow to emerge due to cold soils, the April planted fields have almost all emerged. The few warm days in the last week, brought up the cumulative temperatures closer to normal by end of May (Fig 1).
With accumulation of heat in the last week the crop has advanced well but still remains 5-7 days behind normal. Growers are irrigating to prevent land blowing from winds. By mid-week, June 3, we are close to 50% + of fields with emergence. June 3 may be the date for 50% fields with emergence in western Manitoba, other areas appear to be slower.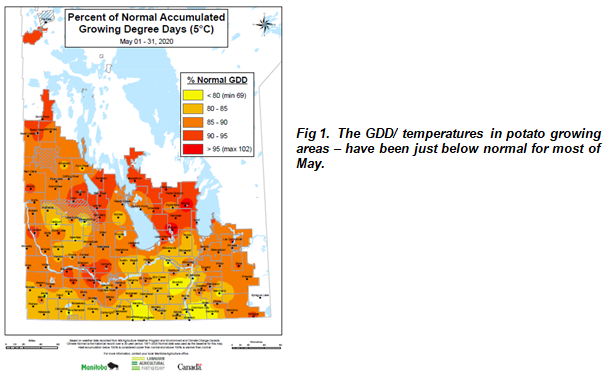 http://www.gov.mb.ca/agriculture/weather/pubs/percent-normal-gdd.pdf.
Precipitation has been below normal for May in most potato growing areas (Fig 2), ranging from <30% to 75% of the normal rainfalls for potato growing areas. After the rain events on May 24 and 25th, there has been no rain since. The soil moisture graphs show a small bump, after the May 24/25 rains, in soil moisture in 5cm depth, but had hardly any impact on the lowering moisture at 20 cm depth at the 5 selected sites (Fig 3 and 4). Some fields have irrigation started. There is a forecast for rains towards the end of the week. These are much needed rains for other crops too.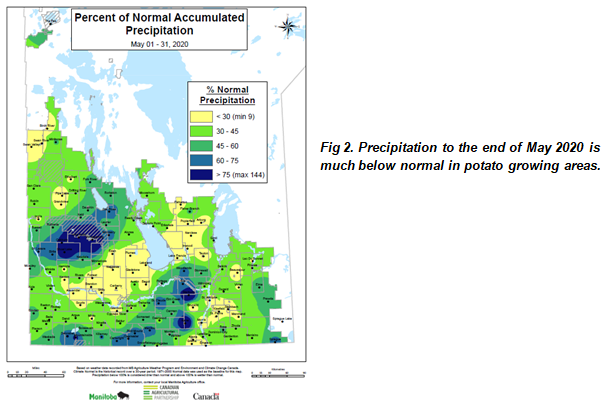 http://www.gov.mb.ca/agriculture/weather/pubs/percent-normal-precipitation.pdf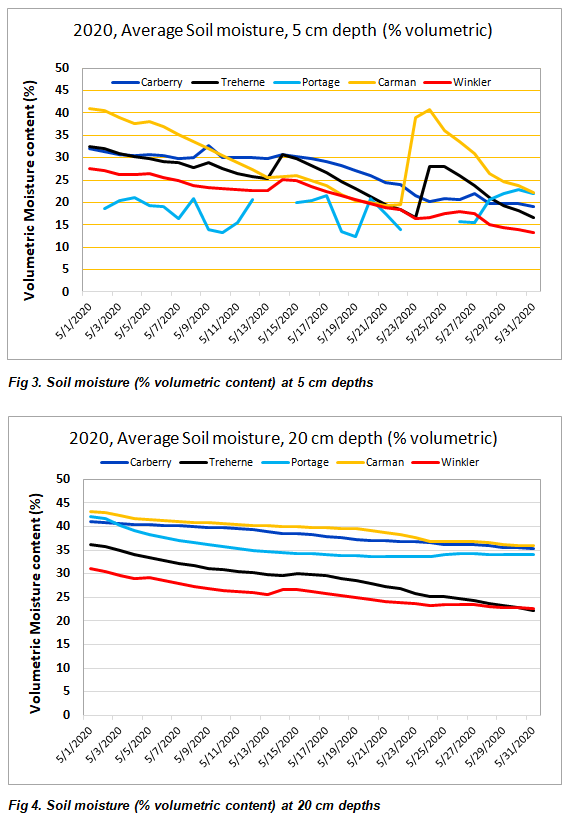 Weed control is in full swing; wild oats with group 1 and 2 herbicide resistance appears to be an issue is some fields.
It is important to be mindful of the wind speed and direction when spraying pesticides, especially herbicides. http://mbpotatoes.ca/spraycast.cfm is a good link for wind speed and suggested appropriate times for spraying.
Winds have been rather strong lately, and causing some wind erosion of hill in sandy fields (Fig 5). Sand grains could cause micro-injuries on foliage of emerged plants and make plants more prone to foliar infections.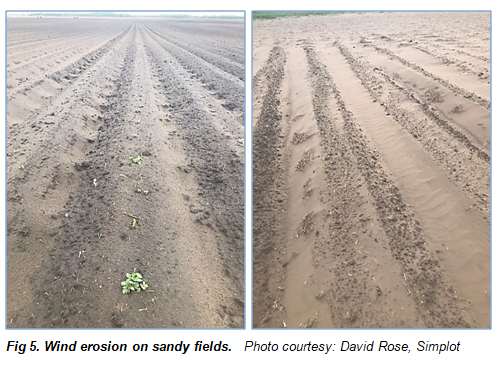 There was frost, overnight on the 30th of May, with temperatures ranging from -0.9 oC to -3.1 oC. Some emerged plants had light frost injury (Fig 6).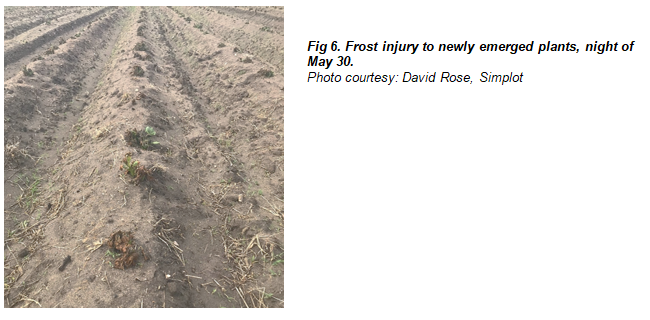 The 2020 potato pest management reporting will be on aphids (in seed potato fields), European corn borer infestation and other important insect pests. It will also include updates on diseases like late blight, early blight, early dying and others. Spore trapping of late blight and early blight spores will be an added feature for the 2020 season.
Spore trapping: another Tool for Late Blight Disease Risk Forecasting
In Manitoba, late blight forecasting has been used as a tool for assessing risk of late blight (LB) disease. The forecast models have used the duration of favourable conditions to calculate LB disease severity values (DSVs). The models calculates the LB risk if the inoculum is present in the area. There are conditions when DSVs (LB risk) are high, but in the absence of LB spore there is no disease. The addition of spore trapping may provide one more piece of information to enhance the late blight forecast.
Along with the weather data, it will be helpful to know if the pathogen (spores of late blight pathogen, Phytophthora infestans) is present when conditions are favourable for the disease in potato fields. In order for disease to develop there must be a host (potato), a pathogen (late blight spore) and favorable environmental conditions (DSVs). The spores can travel many kilometers with strong winds and rains, especially during thunderstorms.
To enhance the late blight forecast, the Manitoba potato industry has cooperatively decided to follow-up on the 2019 Simplot initiative of spore trapping. In 2020, there will be 6 spore trapping sites set up across the potato growing areas: Shilo 1, Carberry 1, Melbourne 1, Treherne 1, Carman 1 and Winkler 1.
Passive spore traps (Sporonado) will be used in the project. The spore traps will be set up at the edge of a potato field, and the filter-cassettes trapping the spores will be sent to a lab for PCR testing, to detect the presence of late blight and also early blight spores. Sample collection will be done weekly, and the results will be included in the weekly potato reports sent to the Manitoba potato industry The weekly frequency of testing is a compromise between cost and more frequent monitoring.
Ontario, Michigan, Wisconsin and North Dakota have also used these passive traps for their late blight risk assessment. The experiences in these places proved passive spore trapping to be a useful method to detect spores 15 days before lesions were detected in the field.
The information on presence of spores is just an additional tool in determination of the late blight or early blight risk. It cannot and should not replace in-field scouting of high-risk areas in the fields. The presence of the spores just increases the risk of disease happening, when the weather conditions are favourable for the disease. For late blight the risk of the disease occurring increases around 18 DSV. For early blight the risk of the disease to occur is usually around cumulative value of 300 P-days (Potato heat units).