Aug 16, 2018 - Insect Pest Report #8(Aug 7-14) - updated
By Dr. Vikram Bisht, Plant Pathologist, Potato & Horticultural Crops, Manitoba Agriculture
The aphid numbers in traps (suction trap,as well as the two pan traps) placed in the crop have increased over the previous week.Potato Aphids and Green Peach aphids (GPA) were trapped in various locations in MB seed fields. Wingless aphids have also been noticed on the underside of the leaves in some fields.
The total aphid trap counts in southern and south-central fieldsshowed a higher number than last week. Like the previous week, two GPAs were trappedagain in a non-seed field in Portage La Prairie.
Along with Crop Oil, insecticide application is recommended.GPA and Potato aphids are efficient transmitters of potato virus diseases, but high numbers of other aphids can be significant vectors for virus transmission just by probing.
Some seed fields are already being top-killed.
Below are the results from the traps in MB seed fields for the 9thweek of sampling.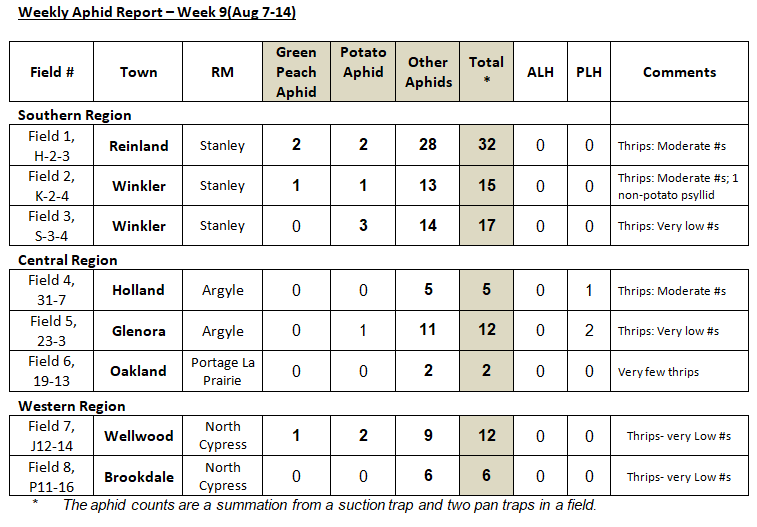 Trapping for European Corn Borers has been stopped. There were a few ECB adults trapped in this week. Low incidence of stem borer injurywas seen in many fields. Borer injury was often seen leading to blackleg/stem rot.