Oct 14, 2022 - MB Potato Report #22
Dr. Vikram Bisht
Potato & Horticultural Crops, Manitoba Agriculture
The week Oct 3 to 10 also had practically no rainfall like last week. (Table 1).
So far, the cumulative rainfall at many more sites is now closer to 100% of normal (Cypress River, St. Claude, Treherne, Carman, Morden), while Austin, Bagot and Rivers are around 140% of the 30-year normal (Table 1). https://www.gov.mb.ca/agriculture/weather/weather-conditions-and-reports. html http://www.gov.mb.ca/agriculture/weather/pubs/percent-normal-precipitation.pdf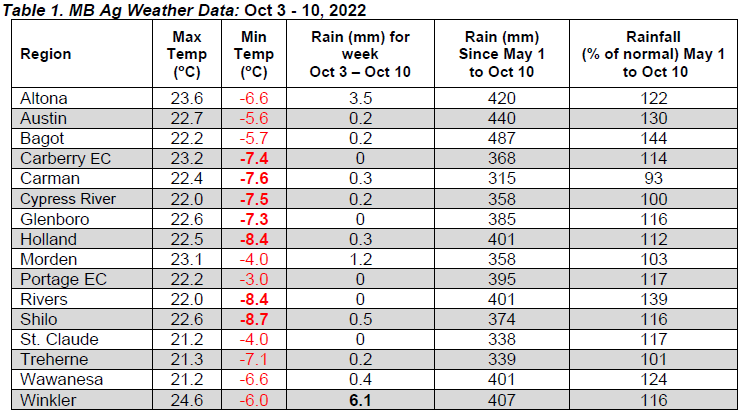 Daytime temperatures for the week (Oct 3 to 10) were slightly cooler than the previous week. The average of high temps at the selected sites was around 22oC vs 25 oC last week. The nighttime temperatures became generally colder (Table 1). And on the 6th /7th there was severe frost lasting a few hours at various weather station sites, with lows from -3 to -8.7.
Based on water holding capacity, the soil moisture in the top 30cm soil zone is generally in optimal ranges, but there are larger pockets of dry to very dry soils and very few areas with wet soils in potato growing areas (Fig 1). https://www.gov.mb.ca/agriculture/weather/pubs/soil-moisture-30cm.pdf.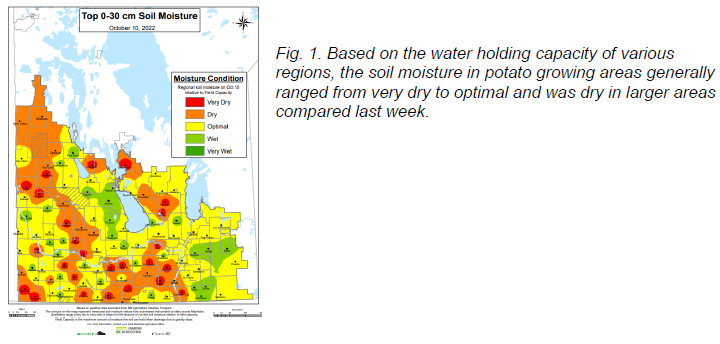 Late Blight:
The late blight forecast was stopped on Oct 3.
Harvest conditions have generally been good as compared to previous few years except for severe frost in some areas on Oct 6/7th. The harvest is now near the end run, with estimates over 95% harvest done. Preliminary yield estimates range from 250 to 550 cwt/ac in different fields. Good yields were achieved even in later planted fields due to extended harvest period.
Tuber Diseases at Harvest and in Storage:
Due to frost injury on potatoes in some fields, it is important to keep an eye on the potato piles. Early processing or disposal of such lots would help secure unaffected potatoes. Low spots and wets. fields had some tuber rot incidence. Such areas with higher-than-normal incidence should be targeted for careful monitoring in storages and probably should be placed for early access for processing or shipping. Also, fine-tuned storage management becomes critical for long term storage.
This is the last report for the 2022 season.
I take this opportunity to thank the industry agronomists: Scott Graham, Leon Jarvis Tavis Mangin & Landon Thomson (Simplot), Mitch Wright (McCain Foods), Steve Saunderson, Janelle Lavich (Choice-Agri), Trevor Thornton & Greg Dyck (Crop Care), Doug Pryor, Daylen Moir, Darren White (Delta Ag), Kurtis McKee (JP Wiebe Farms), Kurt Ginter & Harrison Loewn (KR Crop Check), Kelvin Jarvis & Tyler Workman, (Jarvis Consulting), Susan Ainsworth (Stolon Glance), Devon Wilson (UTH farms), and also Dan Sawatzky (KPPA), Mario Tenuta (Univ of MB) and various farms for in-season updates on crop & pest information, disease samples, support for the aphid & ECB monitoring and Early Dying Surveys.
This year's Late Blight Spore Traps Network was supported by Simplot Canada, McCain Foods, Manitoba Ag, Peak of the Market, MHPEC, Choice-Agri, Jarvis Consulting, Stolon Glance, Delta Ag, BASF, UPL, KPPA and the Sporometrics Team.
Special thanks to my summer student, Luke Phillips and other MB Agriculture staff - Tom Gonsalves, Anthony Mintenko, Manika Pradhan; AAFC staff Curtis Cavers, Leonard Arnal, X. Zheng & Neil.
Finally a big thanks to WIN (Weather Innovation Consulting LP) for maintaining the website www.mbpotatoes.ca and support for late blight forecasting.
To see the full reports with tables and figures, please click on the link:
http://www.mbpotatoes.ca/index.cfm. All previous 2022 reports will also be available at this site.
This report is compiled using information from potato growers and agronomists.